Father's Day is just around the corner, but no worries!  I have got you covered this year with this list of TRIED AND TRUE gift ideas for that special father in your life!  I say "tried and true" because there is NOTHING on this list that we do not personally own, use and love!  So without further ado, here are our recommendations for 2023:
(*As an affiliate, I may receive a small commission on products purchased through the links below, at no additional cost to you.  Thank you so much for your continuing support!  It means so much to me! ☺️💕)
FOR THE DIY GUY:
This drill and screwdriver set is perfect for tackling building projects or hanging pictures or shelves all around the house.  My husband got so sick of me borrowing his all of the time that he ended up buying me my own set, so now we have two! 😂  We use these constantly, and have even taught the kids to use them, as well.
These are the bits that fit the above drill and screwdriver.
This attachment fits the DeWalt drill listed above.  I use it to stir my homemade laundry detergent in a five gallon bucket.  It also great for stirring paint, mixing mud, grout and more!
I have used this saw for many projects around our homestead.  It is much easier to transport this saw to my project than it is to transport my project to the table saw!
We LOVE DeWalt tools!!!  We own so many of them!  One of the things we really like is that the batteries and chargers are all interchangeable between all of our DeWalt tools.  If the battery runs out on your reciprocating saw, just pull one off of your pole saw or hedge trimmers to keep the project moving.  These tools are durable and will last you a long time!  That's why there are so many on our list!
Like its cordless version, this saw can cut through PVC, wood, plastic, and even metal, when you put the right blade in it.  We use this all the time when we just need to make a few quick cuts.
These hedge trimmers make cutting back your bushes a breeze!  They are so easy to use and make quick work of your trimming project.
We have a lot of trees on our property, and often times after a storm, we are left with dangerous broken limbs precariously dangling above our heads.  That's where this guy comes in.  The long pole allows us to reach those broken limbs to cut them down without having to climb the tree and balance ourselves with one hand while trying to chainsaw the branch one-handed with the other.  Don't try that at home!!!  Just get the pole saw!  It's also great for trimming low branches along the paths.
My husband LOVES this chainsaw!!!  He uses it constantly to chop up fallen trees into fire wood.  Much of our land is forested, and we also get some very high winds where we live, so this thing gets a ton of use!  One nice feature of this particular saw is that it is battery powered!  There is no need to keep gasoline in stock and no harmful fumes while using the tool!  It is very handy to have around!
I used this saw in one of my recent projects, building DIY mouse-proof storage boxes for the cold cellar.  It is very easy to use and perfect for projects that require you to cut holes or slits in something, without cutting it all the way across.  I also used it to make my automatic chicken feeders.
This is the drill that you need when drilling into concrete block.  We have used this drill more often than you may think!  We have concrete block walls in our basement, as well as in some of our outbuildings.  It is also great for drilling into a concrete floor, if you are tacking something down so it won't tip over.
This charger can charge ANY DeWalt battery from any of the DeWalt tools mentioned in this post.
We like to keep a few extra batteries on hand to make sure our projects don't get interrupted.  Time is our most precious commodity, and when you don't have much of it, you'd better make sure you can complete your project as planned in the timeframe that you do have!  There is no time to waste, waiting around for a battery to charge on this homestead!
This box cutter gives me the smoothest cut of any I've ever used!!!  It is literally effortless!  We've had this thing for years, and we use it constantly!  I love that it has a retractable blade that is super easy to open and close.  The best part is that the blade is replaceable.  If it ever starts to get dull, just pop the blade out and put a brand new one in.  It uses standard size razor blades, so you can use whatever brand of razor blades you like.
These are the razor blade replacements that we use for the box cutter mentioned above.  If you manage to wear down one side of the blade, you can just pop the blade out, turn it around and use the other side before discarding.  This one package of razor blades will last you a really long time!  You can also use these without the box cutter.  Razor blades are the best way that I've found to peel off stickers or stuck on gunk from lots of different surfaces.
FOR THE OUTDOORSMAN:
I have been very impressed with this trail cam!  I wasn't sure how well it would work or how clear the pictures would be because it seemed like such a low price for a trail cam.  However, we were pleasantly surprised by the picture quality for the price, even with the night vision pictures when it was pitch black outside!  This camera is a great bargain!  Now we know where the coyotes like to hang out at night, and we were able to get some clear pictures of all of the deer that live here, as well! 
My husband LOVES this knife sharpening kit!!!  It allows you to choose the angle of your blade and works on so many different types of knives!  It really is a universal tool to keep your hunting, fishing or kitchen knives all in tip top shape so that you can get the most out of them without having to replace them all of the time.  This is another great money-saving tool to have around!
This knife may be a little pricey upfront, but my husband swears by it as being the best butchering knife he's ever used!  This particular brand of knives also offers a free lifetime resharpening service.  You only pay for shipping.  It's like receiving a brand new knife anytime you want!  We do a lot of butchering on our farm, so this knife gets used heavily, and it is still my husband's favorite!
The temperature retention in this cooler is absolutely AMAZING!!!  I cannot recommend this product enough!!!  My family went down to Virginia for about 5 days in the summer.  We packed our cold food in some ice in this cooler before leaving Pennsylvania.  Upon arriving at our destination, we opened the cooler, moved our food to the fridge and closed the cooler back up with the ice still in it.  Four days later, there was still ice in the cooler!!!  In Virginia… in the summer!!!  Our family LOVES the Yeti brand of products!  We have 3 of these Yeti coolers of varying sizes, and a ton of Yeti water bottles, which are the next recommendation on my list! 😊
This is the perfect gift for anyone who likes to enjoy the outdoors in the summer!  Whether it's golfing, hiking, gardening, grilling, or just lounging at the pool or the beach… You'll never have to worry about your water getting hot and nasty in the sun!  Everyone in our family has AT LEAST one of these water bottles!  They come in all different sizes and colors, and there are different lid options available, such as the pour spout or straw mouth, etc.  I mentioned in my garden remodel, part 2 video that I had my Yeti water bottle sitting in the hot sun all day long, but the water inside stayed as cold as it was when I filled the bottle.  This is exactly what Yeti is known for, and their product definitely lives up to the hype!!
This is another product that everyone in our family has at least one pair of!  When you live on a farm, you need Muck boots.  Period.  These boots are tough, waterproof, easy to wash the mud off of, and they have many different styles, depending on what you need them to do.  If you are doing construction, they make a steel toe version.  If you are fishing and wading in the water, they make a tall version that is waterproof all the way up to the knee (or close to it, depending on how tall you are!)  These are the perfect boots for dirty jobs.  I don't know what my family would do without them!
This is the hunting blind that my husband uses during deer season.  It's a double wide, double bull, and has a great line of vision all the way around.  It keeps him dry and keeps the wind off of him during our cold Pennsylvania mornings, and makes the entire hunting experience much more enjoyable.  Using a blind also allows you to be able to move around a bit without being spotted by the deer, increasing your chances of hunting success.
My husband uses these headphones every time he is on the riding mower or the tractor.  With those engines running, it can be very easy to miss phone calls, but this bluetooth headset alerts you when you have an incoming call so that you don't miss a thing!  You can also listen to the radio or mp3s, or stream whatever you want through your phone.  These are also noise canceling headphones, so even if you're not listening to anything, they will still protect your ears from the loud motors running.  These are the perfect gift for the grass mower or weed whacker of the family!
These headphones have advanced technology that allows you to hear softer sounds, such as people talking next to you, while at the same time, canceling out loud sounds, such as gunshots.  These are the perfect gift for any hunter!  They will protect your ears from harmful noises, while helping to keep you safe by still allowing you to hear the people around you.
FOR THE ENTERTAINER/CHEF:
We have gotten soooo many compliments on this table, and it is no wonder why!!!  This is one of the best purchases you can make if you like to host parties, picnics or BBQs.  This table holds ice so that you can keep your cold foods at a safe temperature, even outside in the summer!  There is a convenient drain in the bottom of the table that you can either place a bucket under or just place the table in the grass where you can drain out any melted ice and add more ice back into the top of the table as needed throughout the day.  No more giving your guests food poisoning with that nasty potato salad that's been sitting in the hot sun all day!  Keep it cool all day long with this ice table!  We already have two of these tables, and I'm hoping to add to that collection!
I LOVE this food processor!!!  It comes with a blade attachment that allows you to slice or shred your food in a flash!  It also has a standard blade for quick and easy grinding or pureeing.  I've had this for years, and it is a reliable work horse that I still use and love today!
If the father in your life is a coffee lover, this coffee grinder would make a great gift!  There's nothing like the aroma and flavor of freshly ground coffee beans!  This little grinder makes it quick and easy!  We've been using it just about everyday for years now, and it is still going strong!
Speaking of coffee, after you use your coffee grinder (or just buy ground coffee) this is an EXTREMELY affordable way to brew it!  At the time that I am posting this, the price of this machine is only $9.98!!!  Talk about a bargain for a machine that we use everyday, and it hasn't let us down yet!
There is so much that I love about this waffle maker!  I would have to say that my two favorite features are that the plates are removable for easy cleaning and that it can make 4 waffles at a time.  Now, when I make waffles for my family, I can give one to each of my 3 kids and my husband all at once so no one is fighting over who gets the first batch!  While the waffles themselves don't stick to the plates, I often like to add things like blueberries or other fruit to the batter.  Sometimes those more sugary, sticky substances leave a little residue behind, but by removing the plates and rinsing them in hot water, the mess washes right off with no scrubbing!  It also cooks pretty evenly and is easy to use.  It has a range of settings so you can determine how dark you want your waffles to be, and it eliminates the guesswork by beeping at you when the waffles are ready.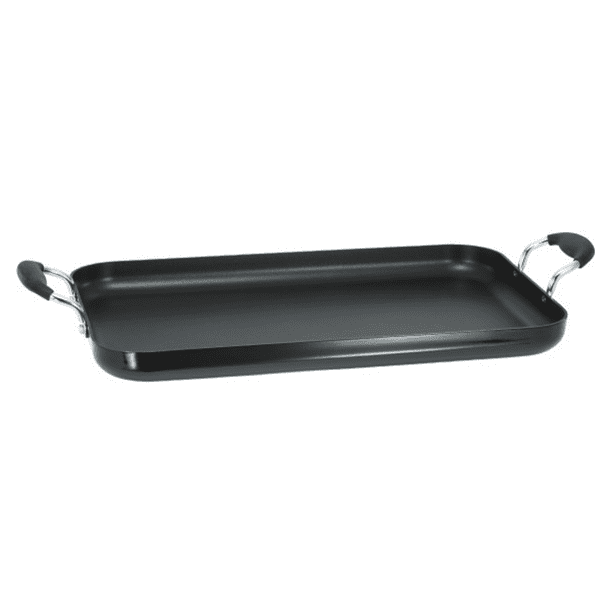 This is the best pan ever for making pancakes!!!  The surface is so non-stick that it looks like it was never used after removing the pancakes from the pan!  We also use it often to make bacon or grilled cheese sandwiches.  I absolutely love this pan, and would recommend it to anyone!
The addition of this blender to our household has made "smoothie night" a beloved tradition for our family!  With my old blender, I had to be more careful about putting frozen fruit or ice into the blender because hard items like that tended to damage it.  With this blender, however, I can place a solid chunk of rock hard frozen fruit in it with whatever liquid we are using to make our smoothies, and it makes very quick work of breaking it up like it's nothing!  This is a very powerful blender and has so many household uses.  We love it!
FOR THE GARDENER:
THESE LOPPERS ARE AMAZING!!!!!  I cannot even express to you how impressed I am with how well these work and how easy they are to use!  They can literally cut through ANY piece of wood, tree or weed that you can fit between the blades!  Even if the tree or branch has a larger diameter than what you can fit between the blades, you can still cut through it by cutting halfway or partway through, then going back and cutting the other section.  To put things in perspective, I am a small woman of 110 lbs.  The other day, I just cut down a tree with these loppers that was close to 3″ in diameter, and it wasn't hard at all!  These can handle jobs that would normally require a chainsaw, but the loppers are so much safer!  I LOVE, LOVE, LOVE my Fiskars loppers!!!  *Note: Do not try to use them to cut metal.  They are not designed for that!
Just like my Fiskars loppers, these hedge shears are top notch!  They cut through tall grasses and weeds so easily!  Unlike the loppers, these shears are not intended for use on very thick or hard stems or branches.  As far as your average patch of weeds, however, they make very quick and easy work of chopping them all down, saving you HOURS of pulling weeds by hand!  These are a definite asset to any gardener!
This is my first year using these raised beds in my garden, but I can already tell you how much my plants are LOVING them!!!  I currently have the best crop of potatoes growing in that I have ever seen!  I chose these particular beds because they were the best price for the size (4'W x 8'L x 2'H) that I could find.  Overall, I am very happy with them.  I currently have 3 of them, and I plan to purchase more in the future.
SELF CARE FOR HIM:
This shower head has multiple different settings to create the exact flow of your preference, but my favorite thing about it is that the shower head attaches magnetically to the base!  This is so much easier to put back, and you don't have to worry about trying to find the groove to slide it into while you have water and soap in your eyes!  The magnet is strong and it snaps back into place easily with no fuss.  It has also worked out really well for my daughters, who weren't able to reach up high enough to take down or put up the old shower head, but they are able to use this one easily!
My husband has had this shaving set for years, and he absolutely loves it!  The razor and stand come apart for easy cleaning.  The razor blades are replaceable so that you can always have the closest shave, and the brush for the soap gives you that luxurious spa-like feeling every time you shave!
These are the replacement razor blades that we buy for my husband's razor set (pictured above.)  They are good quality, and we recommend them.
This is my husband's soap of choice for shaving.  He likes that it has a very thick, rich lather and makes shaving a whole lot more enjoyable.  I can attest to the fact that my husband's face is very smooth and soft after shaving with this, so it gets my seal of approval, as well.
This aftershave that my husband uses not only cleanses your face after a shave, but in my opinion, it also smells AMAZING!  I LOVE the smell of this aftershave so much that I make it a point to come and enjoy the scent as soon as my husband puts it on.  😂
THE TECH/OFFICE GUY: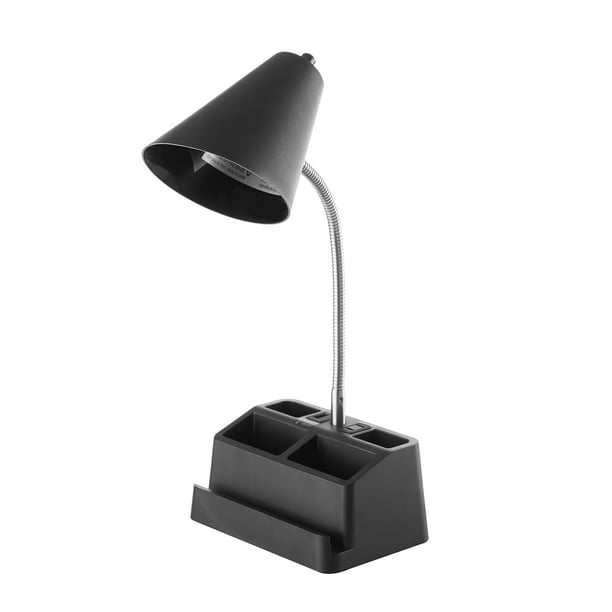 I have this lamp sitting on my desk, and it is sooo convenient!  Not only does it provide bright LED light for my workspace, but it can also store my pens, pencils, scissors, sharpies, highlighters, and it can even charge my tablet and my phone simultaneously!  It has both a regular 110 outlet and a USB port for charging.  Plus, it has a slot to store your tablet in the front.  This lamp does it all, and for such an affordable price!!
*Note: If you order this item, be sure to use THIS LINK!  There are a lot of other retailers selling similar items on amazon, but they are not the same!  This is the link we used to order our system, and we have been very happy with it.  This was something we purchased for ourselves for Christmas of 2020, and it is still working as well as it did on day one.  It comes with the classic games that we all know and love already installed on the machine.  No need to buy any games for it.  This was definitely one of the family's favorite gifts that Christmas!
This is the desk that I have set up for my workspace, and I absolutely love it!!  It has so much shelf space for storage, and the 2-tiered top maximizes the working area, while still providing easy access to items on the top shelf.  It looks beautiful in the space and is extremely functional!  I couldn't be happier with it!
You may be thinking, "A hole punch?  Really?!"  But let me tell you… this is not just any hole punch!  With this thing, you can punch up to 45 sheets of paper at once!!!  My husband bought this because he is a teacher, so it gets a lot of use.  If that special father in your life has an office job or a teaching job, they will appreciate this gift!  It saves so much time and frustration!!
CONCLUSION:
There are so many great gift ideas out there, but if you want something tried, tested and true instead of a random list of things that amazon is advertising, these are some really great finds!  I hope that this post was helpful to you and that you and your families have an amazing Father's Day!  Take care, and I'll see you next time!
Anne
Facebook/Instagram/YouTube/Pinterest: Blessings In Surprise